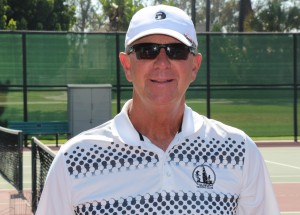 A native of La Jolla, I started to play tennis with my parents and my brother Chaz at the age of three. Before I was able to handle a racquet I was often left in a playpen on the grass between the pro shop and court 8 at BTC. Once I was able to escape the playpen, I started to teach tennis at the high school level, worked at various kids camps in the county and gave some lessons on private courts in La Jolla. I have also taught tennis in Switzerland, Austria and Germany. I have been ranked at the juniors level and as adult doubles player. In 1989 I became Tennis Director at BTC, where I decreed no playpens will be allowed on the premises.
My teaching philosophy is to look for the best way that people of all ages love the game of tennis. Sometimes that means teaching my students to play like pros and sometimes to get them to the point where they can sustain a rally. When teaching kids, I always encourage fun first: in most cases learning will come later.
During my 24-player clinics I stress fun, exercise, high energy, entertainment and a little instruction in order to tackle a wide range of learning styles. During my private and semiprivate lessons I offer customized doses of techniques and training. As a coach, I am very patient and flexible and have a gentle or a tough approach depending on the student's instruction needs. You can also find me golfing once a week or enjoying all professional sports, especially those with a strong presence in San Diego.
I am fluent in German and I speak some Spanish with an Argentinian flair.