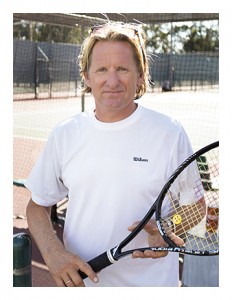 Born in San Diego and raised in Connecticut, I started to play tennis when I was three. I became a USPTA Elite Pro 1 at the age of 20 and I have been a tennis professional instructor at BTC for seven years. I am also the founder and president of the San Diego Junior Tennis Association, designed to introduce children to the sport of tennis. In 2012 I received the USPTA San Diego Division Community Service Award. My cooperative coaching style has been honed over twenty years of developing, teaching and promoting tennis for adults and juniors. I believe in emphasizing each player's strengths to instill confidence and poise both on and off the court. Players learn more, feel better and, most importantly, have more fun when they focus on what they do best. For example, if you have a killer backhand, that's where we will begin to build your best game together.
I was the coach for the USDHS (University of San Diego High School) Boy's Varsity tennis team, and held the CIF title for the year 2000. Between 1981 and 1983 I attended the Tennis Technology Program at Nationally Ranked Tyler Junior College, where I earned a diploma in Recreational Leadership and Teaching with Steve Smith as his instructor and coordinator. In 1985 I taught for Harry Hopman at Saddle Brook Resort in Florida. I also was the longtime Director of Tennis at the Handlery Swim and Tennis Club in Mission Valley in San Diego, and the Tennis Teaching Professional at the Borrego Ranch Resort and Spa. I have worked with Vic Braden in Sylt, Germany, coordinating adult tennis programs, and I still collaborate with him at special events.
When I am not instructing at BTC, I enjoy the Borrego Springs Desert, where I teach elementary and middle school kids in his after school tennis program.