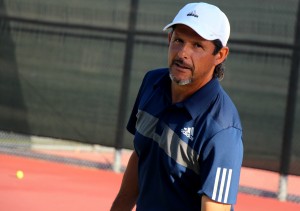 Born and raised in Mexico City, I am a self-taught tennis player since 13. At 18, I became a Tennis Pro Instructor and Coach. For over a decade I served as the National Team Coach and Captain for the U-16 and U-14 categories. I have also worked as a Tennis Director for several clubs and academies, and Coordinator for the national coaches education program in Mexico. I have been Director PTR for Mexico and Clinician for the Mexican Tennis Federation. I moved to San Diego in 2011 and ever since I have been part of the Pro Staff at Balboa Tennis Club. At BTC, my students' ages range from 6 to 79 years old. When teaching children 10 and under, my main goal is to instill a love of the game, and to that end, I work on building the athletic conditioning necessary to play tennis. Every class is organized around drill games and practice routines that give children a sense of control about their own bodies and about the limits of the court. I progressively introduce small variations in order to keep their attention afresh from the beginning to the end. In my junior and adult training sessions the focus is on the technical skills necessary to effectively use of your body, footwork, eye-hand coordination and readiness, as well as on the psychological demands of the game.
I participated (by invitation) of the 2015 Global Cardio Tennis Trainer Summit held in the LTA National Tennis Center in London and organized by the Tennis Industry Association. I am the the only member of the Global Cardio Tennis Coaches Trainers Program in the San Diego area.
I currently offer Cardio Tennis lessons at Balboa Tennis Club. Check out my website for more information!